I've been slacking in my graphic novel reading so my Saturdays have been somewhat empty, and since I've had several people tag me in posts I figured it's the perfect time to post my responses.
This one is the Bedtime Book Tag, and I was tagged by La La over at  La La in the Library.
1. A BOOK THAT KEPT YOU UP ALL NIGHT.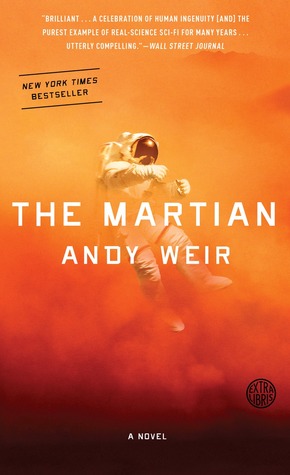 The Martian was super enjoyable and really tense, and even though it's full of perfect "stopping places" I just couldn't. There were a lot of nights where 3 am rolled around and I was basically told to go to bed.
2. A BOOK THAT MADE YOU SCARED TO SLEEP.
Parasite deals with one of my biggest phobias, parasites, and while I really loved the book I was basically fighting off nausea and goose flesh the whole time.
3. A BOOK THAT MADE YOU GO TO SLEEP.
The Maze Runner was a mix of being utterly frustrating and dreadfully boring. One chapter in and I was already ready for it to be over, and there were plenty of times I nodded off while trying to read it.
4. A BOOK THAT LEFT YOU TOSSING AND TURNING ALL NIGHT IN ANTICIPATION OF ITS RELEASE.
While I was super excited about all the HP releases, the last two books were the ones I was rabid over. I went to the midnight releases for them both and it a mix of excitement and anxiety.
5. A BOOK THAT HAS YOUR DREAM BOY/GIRLFRIEND SHIP OF TWO SEPARATE BOOKS
I don't think I actually have any of these.
6. A BOOK THAT WOULD BE YOUR WORST NIGHTMARE TO LIVE IN.
It would be boring and it would be frustrating. I'm assuming if I lived int he book I'd be "in the know" and I'd be utterly disappointed in the supernatural offerings.
7. A BOOK THAT REMINDS YOU OF NIGHT TIME.
The Night Circus has some beautiful imagery, and quite a lot of it takes place in a circus at night.If every night could have strands of lights and smell of popcorn and caramel I think the world could be a better place.
8. A BOOK THAT HAD A NIGHTMARISH CLIFFHANGER.
I can't remember if Firefight had an actual cliffhanger or if I'm super imposing one onto the ending, but it really sucks to have to wait so long for the next one.
9. A BOOK YOU ACTUALLY DREAMED ABOUT. 
Other than Harry Potter the only book related dream I can think of is a few that stared some of the characters from Anne Rice's Vampire Chronicles.
10. A BOOK MONSTER YOU WOULDN'T WANT TO FIND UNDER YOUR BED
Whatever the hell that thing from The Troop was. I never finished this book, I actually did'nt get past the first 10 chapters because of…reasons I can explain without spoiling it.  I actually feel nauseated whenever I see this book.